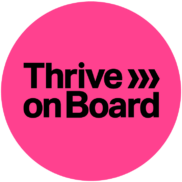 Thrive on Board provides support and coaching during your time as a new or developing trustee to maximise your impact and reflect on the skills and attributes you're gaining in the Boardroom.
Focused on helping you to make an impact as a new trustee, to identify areas of reflection, personal learning and focus via an action plan, Thrive on Board provides a way to ensure you can confidently transition as a new trustee and also reflect on the applicability of that learning elsewhere.
Our experienced coaches will help you identify key strengths and to think through how these insights can influence your future career, including as a non-executive director (NED).
Get in touch with Stacey to find out more about how you can gain from this programme.