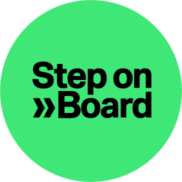 A full service board-level volunteering programme, Step on Board supports people to become trustees of voluntary and charity sector organisations.
This comprehensive and tailored programme provides information, skills-matching and coaching, whilst also enabling people to make a positive impact on the charities and causes they feel passionate about.
Initially centred around equipping people to become trustees by helping them to understand the charity landscape and the responsibilities of charity boards, participants move on to a one to one coaching and diagnostic session to identify their strengths, passions and priorities. This is followed by six months of active search to help match candidates to the right opportunity.
Step on Board alumni
Over 300 people have now joined boards through the programme. This growing network is an opportunity to build a network of fellow trustees to share learning and insights.
As an alumni of Step on Board, you will have access to our networks and receive regular updates on sector governance and invitations to exclusive events.
How to participate in Step on Board
There are two ways in which you can take part in Step on Board. As an individual or small group, you can sign up to join our open programme, which runs regularly throughout the year.
For larger organisations considering supporting more than 5 people to participate in the programme, we can run an in house Step on Board programme for your employees via webinar .
Step on Board for individuals
We run the Step on Board programme regularly for individuals or small groups who would like to participate in the programme. These sessions are held via Skype or Zoom.
We are keen to make the Step on Board programme available to candidates beyond London and the South East. If this is of interest to you, or if you would like to host a Step on Board briefing session at your offices, please do get in touch.
Step on Board for organisations
For employers, Step on Board is an alternative leadership development programme and a way of exposing future leaders to the boardroom earlier on in their careers. In addition, companies can improve their CSR while their employees gain new strategic skills and governance experience and not only see how an organisation is run up close but also build valuable networks.
Get in touch with Stacey to find out more about how your employees can gain from this programme.